About

Mission

History

Faculty and Staff

Artistic Director/ Choreographer
Registration Guide

Open House

Applications


Policy Statement

Auditions & Placement

Scholarships

Class Openings

Fall Program

Winter program

Summer program

Calendar
Divisions


Children's Division


Advanced Division


Open Division
Performances


Annual Festival


The Nutcracker

Theater for Young Audience

Programs


Arts in Education


Boys Dance & Fitness


Special Education


Teens & Adults

Parents' corner


Parenting


Order Pictures


Video Channel


FAQ

Children's room


Activities

Business


Sponsorship


Volunteering


Internship


Employment


"BALLET LESSONS: Carrying on a Russian tradition, in Brooklyn."
- The New York Times
---
Thank you for taking the time to learn about BBT | The School of Russian American Ballet

BBT is a dance school dedicated to providing the highest quality dance education for girls and boys ages 2-19, as well as adults. Through the discipline and dedication dance requires, BBT molds and develops healthy, passionate, responsible, and well-rounded individuals who have the potential to succeed in any field.
BBT draws on the rich traditions of Russian ballet. In addition to teaching all students in classical ballet using the Russian Method, we teach them folk & character dance, modern and popular dance, ballroom and Latin dance, staging for the students original and contemporary choreography. Our instructors have graduated from the world's finest ballet schools & colleges and have performed with the most prestigious ballet companies throughout the world.

BBT serves as a cultural oasis, keeping children off the street and bringing them into a world where imagination takes flight and all cultures flourish together. Through our dance program, more than 500 students learn ethnic dances from various regions of the world.

We offer our students a rare opportunity to perform professional, full-scale ballets for family audiences throughout New York City. While performing with the most esteemed dance professionals, at the best stages, in ballets choreographed specially for them, "Children Dancing for Children" program gives our students a sense of purpose and the excitement of sharing their art and mastery with their peers.

Our classes are held in Brooklyn on the campus of the Kingsborough Community College & Staten Island
---
Sharing rich cultural traditions of Russian* Ballet with its students, our 30 year-old school is the perfect place to get your youngster inspired about instilling poise, grace, creative inspiration, and confidence through the art of dance while making new friends.
---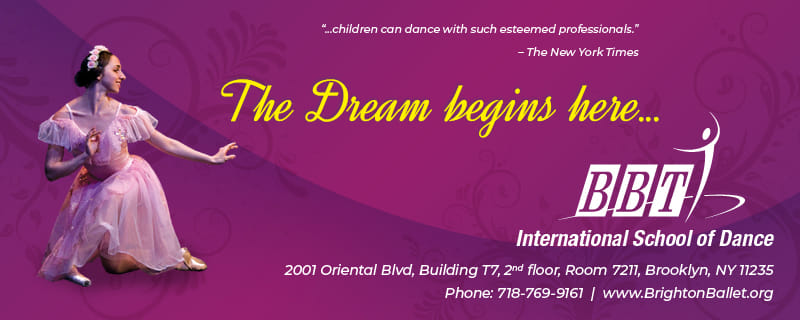 * NONDISCRIMINATION POLICY: BRIGHTON BALLET THEATRE ADMITS STUDENTS OF ANY RACE, COLOR, NATIONAL AND ETHNIC ORIGIN TO ALL THE RIGHTS, PRIVILEGES, PROGRAMS, AND ACTIVITIES GENERALLY ACCORDED OR MADE AVAILABLE TO STUDENTS AT THE SCHOOL. IT DOES NOT DISCRIMINATE ON THE BASIS OF RACE, COLOR, NATIONAL AND ETHNIC ORIGIN IN ADMINISTRATION OF ITS EDUCATIONAL POLICIES, ADMISSIONS POLICIES, SCHOLARSHIP AND OTHER SCHOOL-ADMINISTERED PROGRAMS.